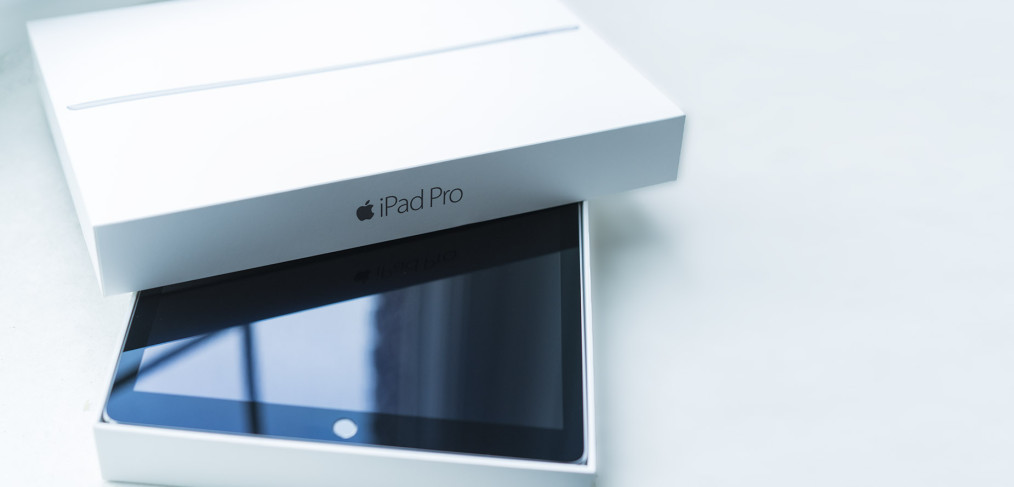 Review: The Apple iPad Pro
Intro
Apple has a lame horse in their stable. For years now sales of iPad's have been an underperforming weak spot in a portfolio of otherwise indescribably popular products. As extremely portable laptops continued to get cheaper and more ubiquitous, sales of tablets began to dwindle as consumers no longer felt the need to have a device purely dedicated to consumption. Why have an iPad to catch up on the news in bed when your laptop weighs less than three pounds and can also do all that other neat stuff? Why lug around a big screen when your phone has its own big screen as well? And for years, that's exactly what the iPad was. A fancy device to consume content, an object of desire indeed, but certainly not a must have.
With the introduction of the massive and expensive iPad Pro (Apple iPad Pro (128GB, Wi-Fi, Space Gray) – 12.9″ Display
), Apple is attempting to breathe new life into the stagnant tablet arena by offering up the first tablet aggressively aimed at content creators. With early supporters like Adobe on board, Apple seems poised to reposition the tablet as a useful tool instead of just a luxury device.
But do we need this? I've left the technical break down of this device to people much smarter than me. What I wanted to know is simple. As a professional photographer, can an iPad Pro in any way speed up or enhance my workflow? Is this truly a product that can enhance or add to productivity? So I have in my possession a space grey 128gig wifi model to find out.
For clarifications sake, I am only going to briefly and sporadically touch upon the technical specifications of the iPad Pro (Apple iPad Pro (128GB, Wi-Fi, Space Gray) – 12.9″ Display
). Better and more tech oriented reviewers/sites have covered this at length. I also will not be reviewing the actual camera of the iPad Pro in any meaningful capacity whatsoever. I am approaching this from the angle of a professional image maker (in my case, photographer) and my only goal is to figure out whether or not the iPad Pro is a useful addition to a photographers arsenal.
First Impression
Without a doubt, this is a technically impressive device (whether or not you are better off with a Surface Pro or something similar is a debate for another day). The latest a9x processor scales back form 3 cores to 2, however we see a clock speed increase of approximately 50% and moving through apps and common tasks on the device is effortless, speedy, and true to apple form, logical and sorted. Additionally, the experience is very familiar. If you are reading this, it is likely that at some point in time you've owned an iOS device and therefore the learning curve on the iPad Pro (Apple iPad Pro (128GB, Wi-Fi, Space Gray) – 12.9″ Display
) is straight forward.
Although I did not have one on hand for this review, I can't imagine owning this unit over the long term without a case as it is impossibly thin (in an impressive way) and therefore, and partially due to its size, kind of slippery. I would like to see a future unit come with a backside with a bit more feel but given Apple's own design language that is unlikely, and just as easily solved by the right case or sleeve.
The screen is what you would expect from Apple, bright, colour accurate(ish) out of the box, high resolution and stunning to behold. I can only promise you that if you leave this thing on full brightness and suddenly turn it up in the middle of the night, your eyes are in for a surprise.
Unfortunately, there were no Apple Pencils available to pair with my review unit, a disappointment indeed but I'm going to fairly concluded that much of the editing experiences I had with this unit would have only been improved greatly with the Pencil, however I did not mind using my fingers to fix blemishes etc. I apologize for not having the unit long enough to wait out the arrival of the Pencil, and i would love to acquire another test unit to do so, but for now that is not in the cards.
I'm going to stop my initial impression here. The iPad Pro has been poured over by many other sites and I'm more interested in reporting to you what its like to actually use in the very specific case of attempting to work it into the work flow of a photographer. I used it in three distinct (I believe ways) and I will report them as such. I was fascinated by the potential of this device and I will share my final thoughts after these three test cases. Is the iPad Pro worth its considerable asking price? According to Apple, the price is justified by the enhanced capability of their newest and most powerful tablet ever. And this is where the review truly begins as I set out to put it through its image handling paces to test its merit.
continued on the next page…